PaymentWorks is featured in this article by PaymentsNEXT.
How Universities Are Fighting Payments Fraud
When it comes to fraud, universities are just one more appealing target for cybercriminals. Like many businesses, universities are taking proactive measures to prevent B2B fraud, and they're looking to digital identity platforms and automation to reduce their vulnerability to attack dramatically12 minutes and editing.
Like the recent Florida municipal water attack, universities and other public institutions and businesses are all under attack by fraudsters.
According to the FBI, in 2019, $1.7 billion was stolen through business email compromise scams in the US. Globally, Nilson estimates 2020 payment fraud more than tripled from $9.84 billion in 2011 to $32.39 billion in 2020.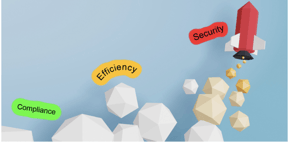 Read the entire PaymentsNext story featuring PaymentWorks here.
Payment fraud hitting universities hard
Not surprisingly, for security platforms like Waltham, MA-based PaymentWorks, business is booming as fraud incidents grow larger and more frequent. Organizations are building their fraud defenses accordingly.
COVID-19, work-from-home, distributed work teams, and distance learning are just some of the unique, additional fraud risks universities face. A 2019 Verizon Data Breach Report showed 53% of cyberattacks in the higher education industry involved stolen credentials.
The 2020 Verizon Data Breach Report shows 92% of educational services data breaches were financially motivated, while others included breaches of web applications (81%), stolen or used credentials (27%), ransomware attacks (80% of malware attacks), and phishing (28%).
High-profile data breaches of US universities show how costly the problem is. Recent hacks included Cape Cod Community College (2018, $800,000); University of Wisconsin-Parkside (2019, $315,000); University of San Diego (2019, $749,000); and Universityof Pennsylvania (2019, $123,000).
Read the entire PaymentsNext story featuring PaymentWorks here.