Cybersecurity Awareness Month Session Titled "Payments Fraud and Your Vendor Master: Uncovering Hidden Risks"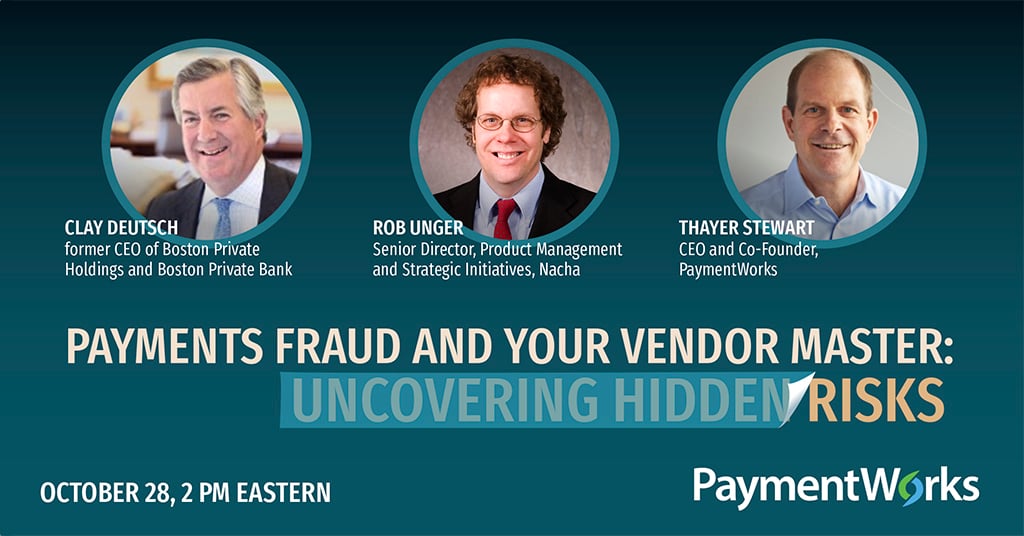 Waltham, MA – October 21, 2020 – PaymentWorks, providers of The PaymentWorks Business Identity Platform, today announced that in support of Cybersecurity Awareness Month it will host a webinar to discuss payments fraud risks and best practices for addressing the issue. With the AFP reporting that 81% of businesses have found themselves the target of payments fraud, vendor management and the vendor master have become the epicenter of financial risk for many companies. The session will include extensive experience in combating payments fraud from three key perspectives: a former bank CEO, and a product expert with Nacha, and a payment security platform CEO, each of whom will bring clarity to the problem, advice for combating it, and sound reasons this issue should be top of mind for organizations.
What: PaymentWorks Webinar – "Payments Fraud and Your Vendor Master: Uncovering Hidden Risks"
Key Topics:
The risk hidden in the vendor master

Best practices for protecting payments & creating airtight controls

What banking and business leaders say they need to combat the problem
Panelists:
Clayton Deutsch, former CEO of Boston Private Holdings and Boston Private Bank

Rob Unger, Senior Director, Product Management and Strategic Initiatives, Nacha

Thayer Stewart, CEO and Co-Founder, PaymentWorks
When: Wednesday, October 28, 2020 at 2 PM Eastern
Registration: Webinar attendance is limited. Additional information and registration details can be found here. Media are encouraged to contact press@paymentworks.com for no-cost registration.
PaymentWorks recently became a Nacha Preferred Partner for Business Identity Services, joining a select group of innovators whose offerings align with Nacha's strategies to advance the ACH Network.
About Nacha
Nacha is a nonprofit organization that convenes hundreds of diverse organizations to enhance and enable ACH payments and financial data exchange within the U.S. and across geographies. Through the development of rules, standards, governance, education, advocacy, and in support of innovation, Nacha's efforts benefit all stakeholders. Nacha is the steward of the ACH Network, a payment system that universally connects all U.S. bank accounts and facilitates the movement of money and information. In 2019, 24.7 billion payments and nearly $56 trillion in value moved across the ACH Network. Nacha also leads groups focused on API standardization and B2B payment enablement. Visit nacha.org for more information, and connect with us on LinkedIn, Twitter, Facebook and YouTube.
About PaymentWorks
PaymentWorks and our company's Business Identity Platform eliminates the risk of business-payments fraud, which costs U.S. businesses more than $20 billion a year. By automating a complex, manual, people-intensive, and error-prone payment process, PaymentWorks protects organizations such as Hackensack Meridian Health, Johns Hopkins, and University of Kentucky from business payments fraud and ensures regulatory compliance. To learn more about how we do it and the partners we work with, visit our website, check out our blog or listen to our new podcast series, "PaymentWorks Presents Risky Business".
###